Thai Ranger Badges
also worn by 46th SF Company personnel in Thailand

machine-embroidered in Thailand, Unused......(sold)
Hand-embroidered in Thailand, Unused......inquire

- - - -
left patch is supposed to be a "Support Unit"
3 x letters at bottom are the Unit's ID
Tiger patch not ID'd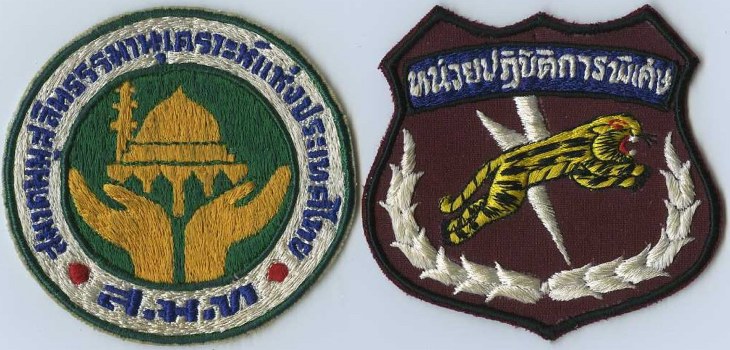 Unused............inquire
Tiger patch, UnUsed......inquire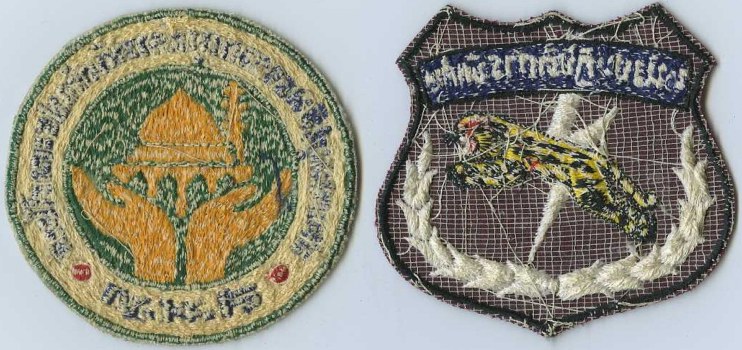 - - - -
post-1972-73 Bullion Badge with straight wings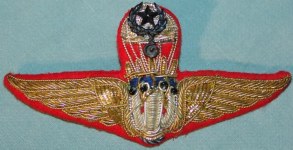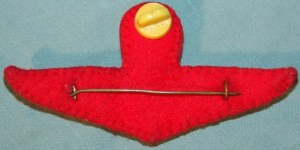 Thailand Army Parachutist's Badge, Used..........inquire
- - - -
Older Thai Master Jump Badge, 1950s to early-1960s
post-1972-73 Cloth Parachutist's Badge
300dpi

early Parachutist's bullion style badge with droop wings, circa 1950s to early-1960s, Used.......(sold)
Senior(?) sewn-on badge, RFU (probably from a shirt), Used.....inquire

- - - -
SF and Ranger Badges
cloth badge is explained on page 481 in LTC Sutherland's Book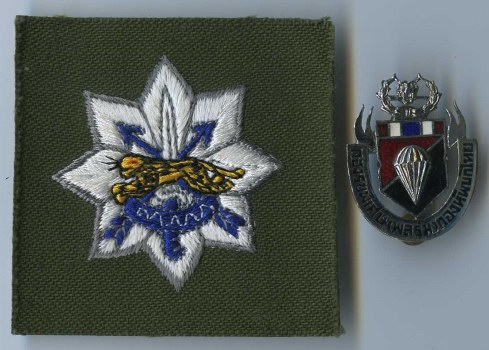 SF Qualification Badge at Lop Buri, (mis-ID'd on collector's label), UnUsed.......inquire
Ranger Jungle Warfare School DI, looks like the original screwbacks, Unused......inquire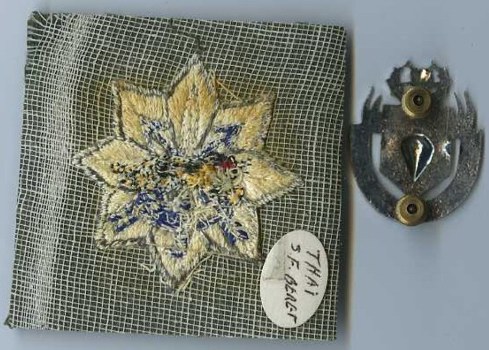 ( also on SF patch page )
- - - -
Commando Battalion 418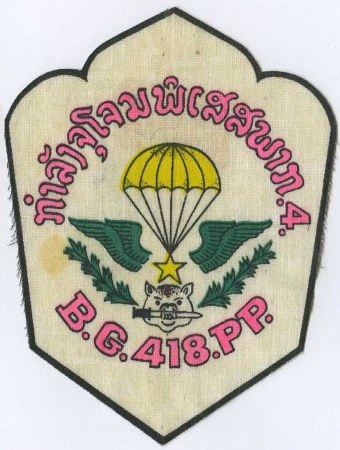 Commando Battalion 418, thin "see-through" plastic backing, scrapbook residue on back, UnUsed......inquire
( a collector mis-ID'd it and wrote on the back "Laos Para Ranger" )
- - - -
231st Squadron
I am not sure but this is the best ID I could find.
"AT-28D Flightline 231", made in Thailand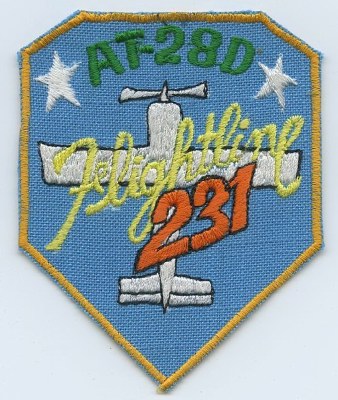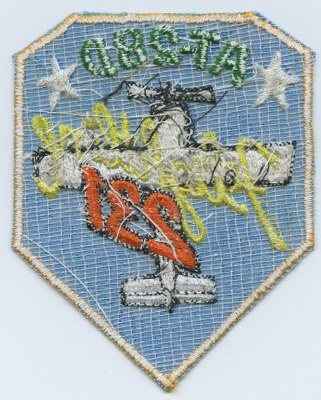 UnUsed........inquire
- - - -
USAF Advisor's Patch Grouping
UI#114 - USAF Pilot's A-1 Instructor's Grouping from his K-2B, Thai/Lao associated but may also have VNAF connections(?)
( unknown if the Grouping is Thai or Lao associated or if part is VNAF connected )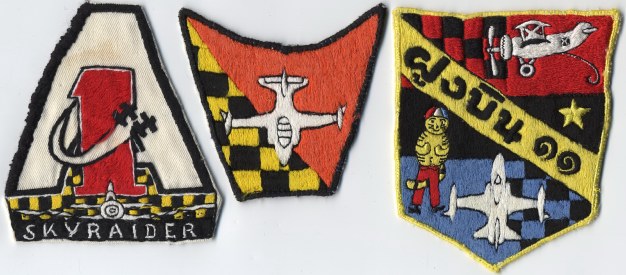 left - Hand-embroidered Vietnam made "SKYRAIDER" with an "A" and a "1"
center - Jet Aircraft Training Class(?), Thailand made
right - Thai/Lao language means "Pilot Class 11", Thai made
( see on USAF First "Squadrons" page )
- - - -
UI#208 - Thai Armed Forces HBT Leaf Pattern shirt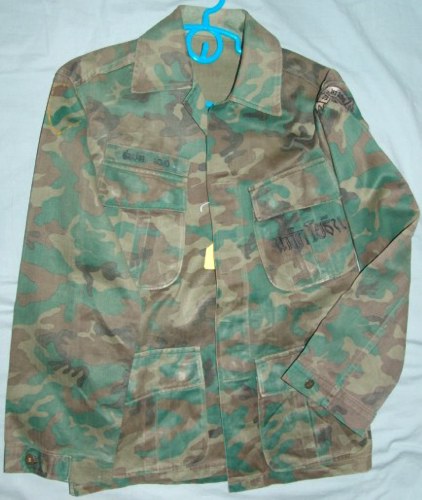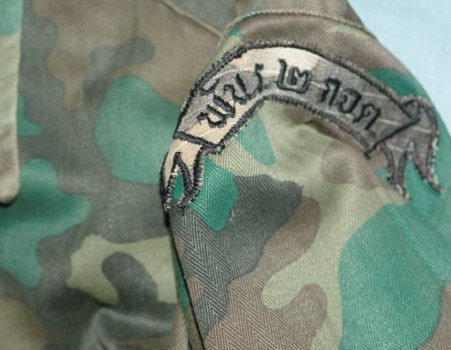 UI#208 - circa late-1960s into the 1970s, not sure of the unit, left SSI was removed, I do not have a translation of the right SSI scroll, Used....inquire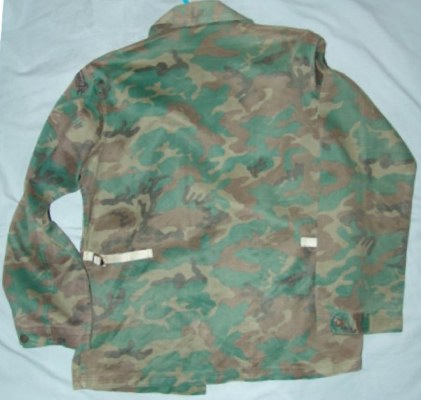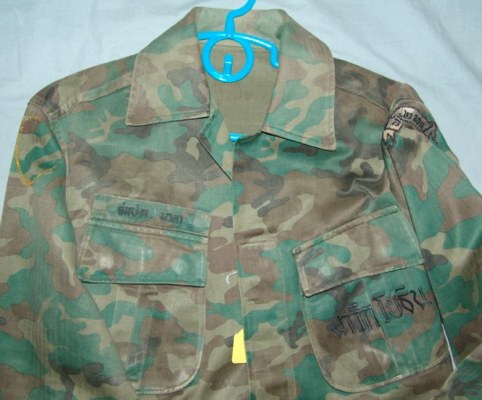 ( also on NA and UI pages )
UI#217 - Unidentified Thai patch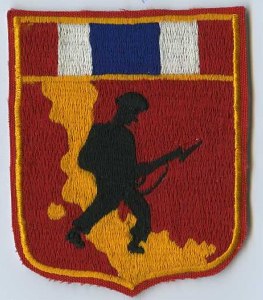 UI#333 - possible Thai Advisory Group to the Burmese Resistance, Thailand Shield with a golden animal, rice-grain wreath and sword...?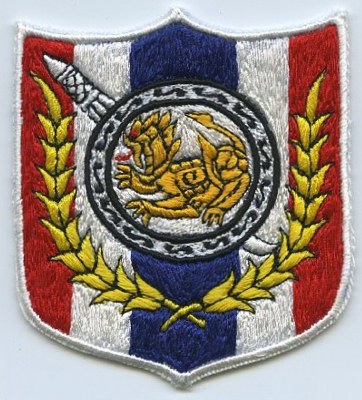 UI#342 - Thailand(?) Parachutist's Badge, gold-color Bullion on Balck felt, sew on style, ever see a "gold" jump badge?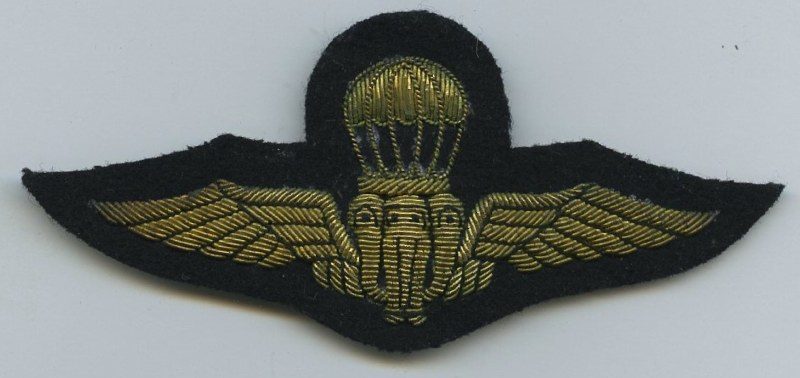 UI (no number - stored with the THAI patches), THAI or LAO Purple patch with Helicopter and Wings, a Khmer speaker said this was NOT Cambodian and thought it was a THAI badge, anyone know the ID?